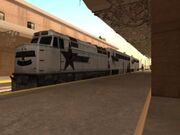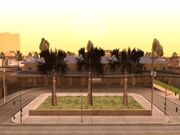 Yellow Bell Station
is the rail station servicing the northern part of
Las Venturas
,
San Andreas
. It is situated in the
Prickle Pine
district, and is part of the
Brown Streak Railroad
. It located right next to the
Yellow Bell Golf Course
, hence the name. Its counterpart is
Linden Station
in the
Linden Side
district. There are barriers, which stop traffic from crossing the line when trains are approaching and then raise when the train has passed through.
It is believed that in the beta-version of
Grand Theft Auto: San Andreas
this station was called Sunset station. A poster can be seen on the wall, suggesting that the player can buy takeaways on Sunset station. As there isn't a station with that name in final release, it probably refers to the Linden station, where the poster is. It has a play on the name "yellow belly".
Next Stops
Clockwise
*
Linden Station
Counter-clockwise
*
Cranberry Station
Ad blocker interference detected!
Wikia is a free-to-use site that makes money from advertising. We have a modified experience for viewers using ad blockers

Wikia is not accessible if you've made further modifications. Remove the custom ad blocker rule(s) and the page will load as expected.