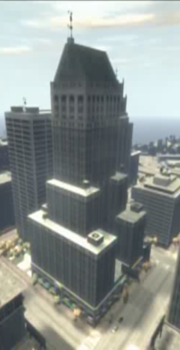 The
National Newark Building
is located on Boyden Ave. & Koresh Sq. in
Alderney City
,
Alderney
. In reality, its located in Newark, NJ. The National Newark Building was the tallest building in NJ until the Exchange Place Center was completed in 1989. The Top of this building was modeled after modeled after the mausoleum at Halicarnassus, which is well known as one of the 7 Wonders of the World.
Ad blocker interference detected!
Wikia is a free-to-use site that makes money from advertising. We have a modified experience for viewers using ad blockers

Wikia is not accessible if you've made further modifications. Remove the custom ad blocker rule(s) and the page will load as expected.