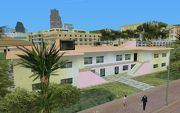 This apartment room is a reference to the movie Scarface. There was a scene where Tony Montana's friend is killed by a chainsaw in a bathtub. The bathtub in Apartment 3C is splattered with blood. With a Chainsaw pickup right next to it, it is a clear homage to Scarface. It should also be noted by the entrance there is a briefcase full of cocaine with some spilled packets on the ground just like the same scene in Scarface. There is a glitch in which if you jump into the bathtub and sprint at the blood stain, you will run through the wall and the world will be invisible.
The blood stain is also the exact same image shown in the blown up jail cell in GTA 3 after helping Kenji get a high ranking Yakuza member out of the police station in Staunton Island. The exterior of the apartment can be seen in GTA Vice City's first trailer at 0:21.
Ad blocker interference detected!
Wikia is a free-to-use site that makes money from advertising. We have a modified experience for viewers using ad blockers

Wikia is not accessible if you've made further modifications. Remove the custom ad blocker rule(s) and the page will load as expected.